Thermochromic Pigments and Inks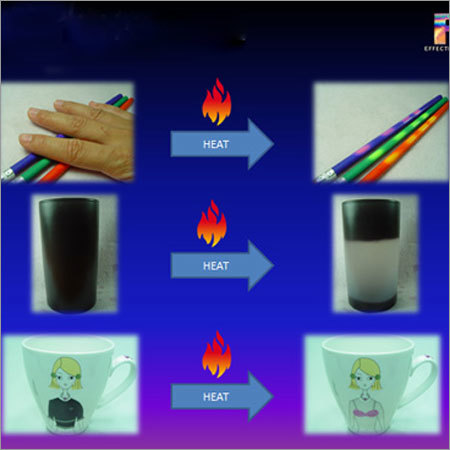 Thermochromic Pigments and Inks
Product Description
With firm obligation to quality, we have set up ourselves as a strong exporter, manufacturer, and supplier of Thermochromic Pigments and Inks in the business area. These exceptionally point by point Thermochromic Pigments are used as surface covering materials for ABS, PE, PP, PS, PVC and PVA produced plastic things. Beside that, these shading substances are suitable for printing paper, fabric, ceramic creation and timber. In plastic taking care of industry, these Thermochromic Pigments and Inks are used as a piece of mix with PE, PP, PS, PVC and Pet for plastic mixture and ejection reason.
Features:
Precisely took care of
Easy to blend
Gassing security
Purity
Application and Usage :
ABS, PE, PP, PS PVC, PVA PE, PP, PS, PVC,PVA , PET, Nylon Paint: Suitable for surface coating of plastic products made of materials such as ABS. PE, PP, Ps, PVC and PVA. Ink: Suitable to be printed on all kinds of materials such as fabric, paper, synthetic membranes, glass, ceramics and timber and so on.
Plastic: The high color density master batch can be used together with PE, PP PS, PVC PVA PET Or Nylon in plastic injection and extrusion.
Specification :
15 Standard Colors 20oC, 31oC, 43oC

| | | | |
| --- | --- | --- | --- |
| Black | Violet | Dark Blue | Blue |
| Black5C2x | 2728C | 294C | 301U |
| Turkey Blue | Sky Blue | Green | Green Grass |
| 320C | 313C | 335C | 802U |
| Yellow-green | Yellow | Orange | Chinese red |
| 374U | 108c | 021C | 185C |
| Peach | Rose | Red | |
| Rubine Red C | Rose Red807C2x | 186C | |
Contact Us
D Wing, 7th Floor, Suite No. 710, Neelkanth Business Park, Near Vidya Vihar Railway Station,, Mumbai, Maharashtra, 400086, India
Phone :25021414